Done
— This request has been fully completed.
Wiki: w:c:selector-wixoss
Items: I wish to request a translation on http://selector-wixoss.com/ ,the left part section on the Top navigation bar.
Extra information: I have printscreened the image to be more precise: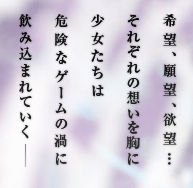 Signature: Hikari 93 (talk) 10:08, October 4, 2014 (UTC)
Hope, wish, desire……
Keeping their thoughts (memories?) in my heart
Girls are getting drawn into the whirlpool of dangerous game.
Signature:

 Done Plover-Y (talk / KirbyWiki / WLB Wiki) 12:34, October 4, 2014 (UTC)
The second line is Yataluさん's translation. Thank you♪
Fixed my part of the translation and marked request as completely done. Enjoy :)
Community content is available under
CC-BY-SA
unless otherwise noted.